By Anne Abraham — November 16, 2018
Sometimes, on a cold day, all you want is some feeling of warmth. Some people like to be wrapped up in a blanket, or drink hot cocoa, and others prefer to go out for some ice cream. You do whatever you need to do to stay warm. No, you didn't misread that. We did suggest going out for ice cream because who doesn't smile at the thought of ice cream. And a smile is the best medicine for any ailment, right?
We've done some exploring and found one of the best places in the neighbourhood for you to satisfy your ice cream cravings any time of year.
Ice cream is best all year
While fall and winter often bring hot soups, stews and drinks into the mix, it's just as satisfying to lick delicious flavours from a cone. That's probably what the owners of Rain or Shine thought too. Because, let's be real, why else would they have opened an ice cream shop in November.
It's been five years since the ice cream parlour, Rain or Shine, opened on the West 4th strip of Kitsilano.  The title is so appropriate. Whether in the rain or shine, there is no wrong time to go out for ice cream.
What are the Flavours?
There are fifteen flavours going at a time. Ten of the flavours are permanent, and the other five fluctuate based on the season. From what sources say, nearly all of their ingredients are locally sourced. If your mouth isn't already watering, then get a taste of this, the ice cream is also made using fresh, natural and sustainable whole ingredients. Has this made you hungry for ice cream yet?
A happier neighbourhood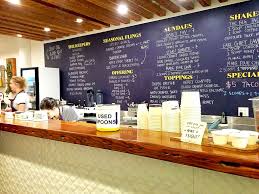 According to the website, the company's objective is to make the surrounding neighbourhoods happy. And let's be real, what makes people more joyful than a scoop or two of their favourite ice cream flavours. You can read about Josie Fenton and Blair Casey's story here.
Eat ice cream in winter
Just in case you're not convinced. Here are some more reasons why you should eat ice cream in winter.
They have seasonal flavours such as Coffee Toffee, London Fog and Honey Lavender.
Ice cream can be soothing for a sore throat from a winter cold.
The line probably won't be too long.
You're ice cream won't melt like it does in the summer.